At Enlightened Solutions, we offer several distinct levels of clinical care designed to meet the unique needs of each individual client. Addiction recovery is not a one-size-fits-all process, and our customizable treatment program reflects that. Our partial hospitalization program in NJ provides an intensive, effective, and flexible treatment option. A partial hospitalization program (PHP) is ideal for clients who have already completed medical detox and inpatient treatment, or who are looking for a stand-alone treatment option that provides more freedom than residential rehab. 
Our PHP program combines evidence-based therapies with holistic treatment options. At Enlightened Solutions, we take a whole-person approach to addiction and mental health recovery. Because active addiction impacts all areas of life, effective treatment should focus on the restoration of physical, mental, emotional, and spiritual health. If you or someone close to you has been struggling with addiction and is looking for partial hospitalization in New Jersey, visit our admissions page today. 
What is Partial Hospitalization? 
A partial hospitalization program is a level of care that provides an intensive, highly-focused treatment program for addiction and co-occurring mental health disorders. However, as opposed to inpatient treatment, clients undergo full days of treatment while living at home or in sober living. Instead of residing in an inpatient facility for a set amount of time, clients arrive for treatment in the morning and return home in the afternoon or evening. 
Compared to other levels of care, PHP provides more flexibility while delivering the same high-quality treatment options. This flexibility allows clients the opportunity to work, go to school, and manage daily responsibilities. PHP programs allow clients the opportunity to practice their recovery skills in a real-world setting, where they inevitably encounter challenges, obstacles, and potential relapse triggers.
Obstacles are openly discussed in a therapeutic group setting, and clients learn to overcome challenges in a healthy, productive way. Clients have the support and guidance of their clinical team and peers to help them stay on track and develop the confidence they need to maintain sobriety long-term. By combining the flexibility of independent living with the support and structure of an intensive treatment program, our PHP empowers clients to achieve lasting recovery and reinforces the life skills they need to thrive.
Who is a Good Candidate for PHP?
Partial Hospitalization programs are designed to treat a number of substance use and mental health problems. Ideal candidates are those who:
Do not require 24/7 care in a residential program

Have already completed detox and have been physically stabilized

Cannot easily commit to a live-in program due to conflicting responsibilities (career, family, etc.)

Already live in a supportive, recovery-oriented environment

Prefer a more flexible treatment option

Are looking for step-down care after completing an inpatient rehab program

Have recently relapsed and now require supplemental support as they regain their footing in recovery
At Enlightened Solutions, we know the best treatment option for one client might not be equally as effective for another. Not every client requires around-the-clock supervision and support, which is why we provide a care option that gives clients full access to our evidence-based treatments and experiential therapies in a more flexible environment. To determine if our partial hospitalization program in NJ is right for you, we work closely with clients and their families to identify their treatment needs.
Partial Hospitalization at Enlightened Solutions 
At Enlightened Solutions, our PHP program provides a flexible treatment option where clients can participate in a number of evidence-based, experiential, and holistic therapies customized to address their specific needs. Our forward-thinking programming is highly personalized for each client and incorporates proven techniques, such as:
Individual

, group, and family therapy

Gender-specific groups

12-Step program philosophy education

Cognitive-behavioral therapy (CBT)

Dialectical behavioral therapy (DBT)

Motivational interviewing (MI)

Dual-diagnosis treatment options

Trauma-informed care

Art, music, and equine therapy

Wellness and nutrition groups

Spiritual care and mentoring

Meditation and mindfulness

Relapse prevention training
Our PHP program balances client participation and program engagement with the freedom to manage any ongoing personal, professional, or familial responsibilities. It also ensures a deeply rewarding experience similar to that of an inpatient treatment program. This is especially true when PHP is coupled with a supervised recovery residence or sober living home. 
While clients can continue living at home while enrolled in our partial hospitalization program, a sober residence has the added benefit of integration into the local recovery community, providing another layer of structure and support throughout the healing process.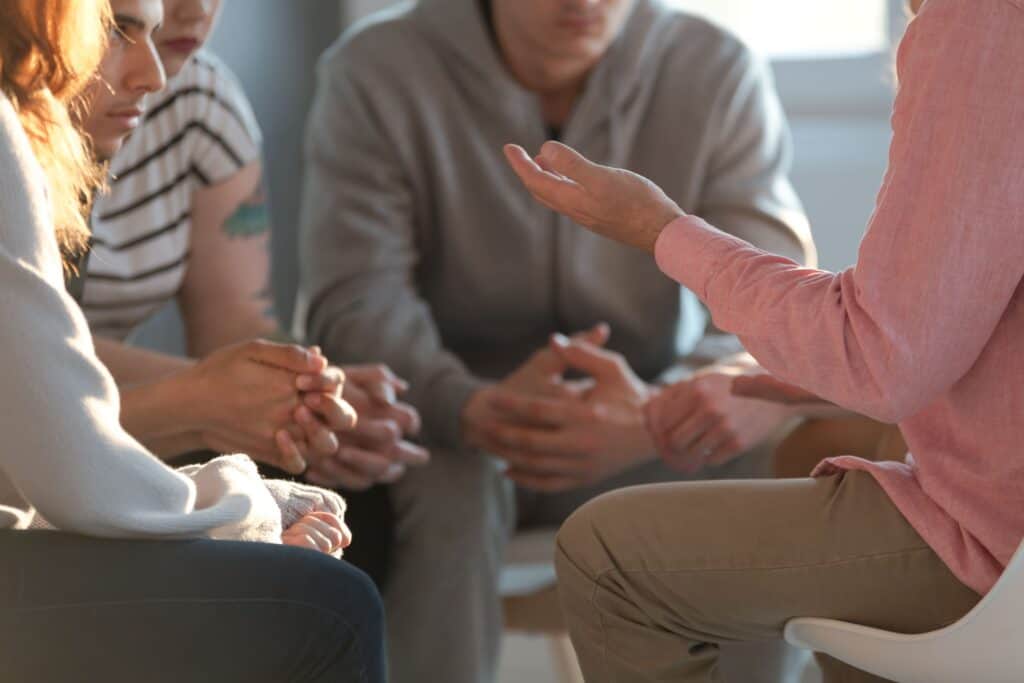 Our Partial Hospitalization Program in NJ
When looking for a partial hospitalization program, there are several important factors to consider. First of all, it is important to commit to an appropriate level of care. PHP in New Jersey is ideal for those who have already completed medically monitored detox. At Enlightened Solutions we offer a step-down program of care, beginning with detox and transitioning into PHP or intensive outpatient treatment, or IOP. 
Secondly, it is a good idea to find a partial hospitalization program that offers more than medication-assisted treatment (MAT) and traditional talk therapy. While medication and therapy play an important role in many substance use and mental health treatment plans, holistic care lends itself to longer-term recovery. We take a whole-person approach to treatment, leaving no stone unturned and preparing our clients for continued success on the road ahead. 
Learn More About NJ PHP 
If you or someone you love is interested in learning more about our partial hospitalization program in NJ, we are here to help. We understand how intimidating reaching out for help can be. Our team of compassionate and experienced staff members has been where you are now. We are available to guide you through the admissions process from a place of personal knowledge.
Contact us today. We look forward to speaking with you soon and helping you begin or continue your personal recovery journey.